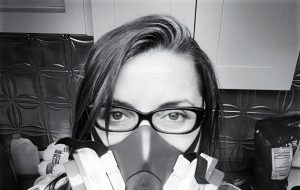 One of a kind yarns for one a kind projects.
Keeping it quirky and fun, Stitch Noir has been dyeing small batches of handpainted, heavily speckled and textured yarns since 2018.
Amanda, the principal dyer of Stitch Noir, comes from the world of knitting, crochet and spinning so she knows how to dye yarn that is going to work up into something exciting and unique! Having the good fortune to move into a home with a second kitchen (….ahem…or rather with a dye lab!), Amanda has spent the last year (starting in 2018) creating unique colourways….generally always dark and saturated….pastels begone!!!
Her speckled, glow-under-black-light and gemstone influenced yarns have become fan-favourites in her hometown of Hamilton.
2011 : Learned how to Crochet
2013 : Spun on a spinning wheel and was hooked from the moment I sat down!
2014 : Taught myself how to knit! Jumped in feet first with cabling!
June 2018 : Started seriously dyeing fibre and yarn
So, what's next? I have no idea. Nalbinding perhaps!