Mothers' Day Yarn Bouquets
As we are presently all in self-isolation….and since it's looking like this will continue for some time yet…I got to thinking the other day about Mothers' Day and how special visits, lunches, dinners, get togethers won't be happening. I wanted to come up with something special to offer in my shop that folks could gift to their mothers on Mothers' Day.
As an indie dyer, there's one thing I know how to do pretty well and that is dye yarn and fibre. So one day I got to playing with some dyed minis. I skeined them a little tighter and wrapped them around and around….and one of them looked like a flower.
Inspired, I googled yarn flowers, yarn bouquets and came across loads of interesting ideas! My Mothers' Day Yarn Bouquet idea had begun! (Details about ordering below)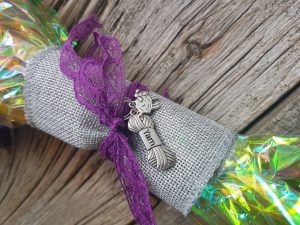 The bouquets are made with 700-800 yards of 3 ply sock weight or single ply fingering weight super wash yarn.  They are decorated and wrapped, as a bouquet should be, and attached are two stitch markers.  Those that are personally delivered will have real greenery whereas the shipped bouquets will be packed with artificial greenery.
They can be shipped (within Canada) or delivered by me on Mothers' Day to addresses that are near Hamilton (approx 20-25km away is fine).  
Details available on my Etsy shop….NOTE There are three listings in Etsy for my bouquets.
1) No Contact Delivery on Mother's Day
2) Shipping to ON or QC
3) Shipping to all other provinces
I hope everyone is keeping safe and healthy!!  
Happy Knitting!