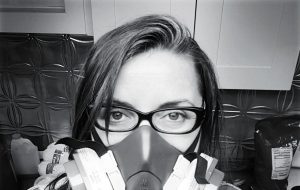 Welcome to my website!  Stitch Noir is based in Hamilton, ON Canada and is run by one person, Me!
My name is Amanda and I personally dye all the yarn and fibre you see on this website, in my home!
By purchasing yarns and fibre from Stitch Noir, you are supporting a small local artisan who creates for the love of creating!
I started dyeing small batches of handpainted, heavily speckled and saturated yarns in 2018 and years later, I still have so much fun in my dye lab…AKA my basement!  I love dark and saturated colours….sometimes you'll find some pastels in the mix….but be sure, they were accidents! Lol
I specialize in unique OOAK gradient sets in a variety of bases, weights and yardage.  Every gradient is a one of a kind creation, even when dyed using the same colours as another.
I like to keep my colourways quirky and fun and I approach each dye pan and undyed skein as a work of art.
The good thing about that approach is that I get all sorts of interesting colour combinations, sometimes with little help from me at all!  The pans take on a life of their own and there's a freedom in playing while I work that I really enjoy!
The down side to this approach is that although I keep notes about how I create colourways, my measurements aren't exact and batch to batch, the colourway may shift slightly.  My dyeing is my creative outlet and if I bring in numbers and percentages, I will get lost in the math and lose the fun quirkiness that I really enjoy!
BUT on a more business-y note, SWEATER AMOUNTS are available.  I highly recommend buying the amount of yarn you need for a project because I can't guarantee 100% matching from batch to batch.  If you need three or more skeins, and I don't have the skeins from the same batch number available,  I will dye them to order to ensure they match as closely as possible. I say match but as with any hand-dyed yarn, one can expect some slight variation from skein to skein.
I have been interested in fibre and yarn since 2011, which is when I learned to crochet my first granny square.  Crochet made sense…numbers, stitches, patterns….  My skills grew from there and soon I was selling finished items online (especially Skull Shawls….lots and lots of skull shawls!)
Soon I taught myself to knit and then a friend sat me down at her Ashford Traditional to try spinning and I was immediately hooked on that as well!
Effectively, I was following the fibre trail but moving backwards in the process.  My brother-in-law has sheep…which gave me access to raw fleece…..
Learning to dye was just a matter of time!