You clicked the FREE HUGS button, didn't you!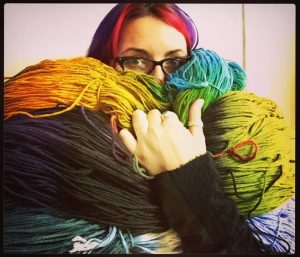 I would have too.  Much too tempting to just leave it there, untouched, staring at me.
I wish this meant that I would be soon showing up on your doorstep to give you the biggest Yule hug,
but sadly, I am in the midst of organizing my stash (in between friends and family visits)
and if my progress is any indication, I am going to be buried in my craft room for years!!
BUT
What I can do….what I am pretty good at doing….is sharing yarn!
So, if you place an order before Yule, December 21st, you are eligible for a yarn hug!
(**Applicable to almost all orders….see below)
HOW TO CLAIM YOUR YARN HUG:
On the page that asks for your billing/shipping address…there is a box at the bottom to add a note.
Before you fully checkout, add the following note to that box:
"I could use a squishy yarn hug!"
Be doing that, you will receive an extra yarn surprise with your order!  At least a 20g mini, possibly more….and on what base? Who can say?
What I can say is that it will be a lovely addition, hand-dyed by me and send with, as my suede tags say, "Love & Cuss Words"!
Wait….that's not quite what I mean-….there will be no cuss words!  Just extra squishiness!
Happy Winter Solstice, my friend!
**NOTE: Yarn hugs cannot be added to Mystery Box orders….
those packages are already so full of squishy goodness,
I would need an extra project bag!