The past few weeks have been an awesome and yet ridiculous and blurry mishmash of back-to-back work assignments, custom orders, teaching crochet and a last-minute trip to Florida.
Not necessarily in that order.
I'm not complaining at all!  I like to keep busy and Florida…well, there was no snow…


….'nuff said.
And I had a ton of time to work on some knitting projects, so overall, pretty happy with how things are progressing.
The fall out to being so busy is that I don't update my blog nearly as often as I should.  So, for this post, I thought I would show a few of the items I have completed over the past couple of weeks.
They are all skull patterns.  I know.  You're not surprised! 🙂
I'm especially proud of the acrylic version of the Solid Body Skull Scarf that I made as a custom order.  (Pics and description at the bottom of this post!)
Believe it or not, I do have some other projects on the go as well…but they're works-in-progress and there isn't much to show…yet.
The weekend that I taught crochet in Cambridge (see my blog post about that here), I also completed a few skull shawls for Black Orchid Designs to sell in their shop.  They had requested a few more shawls so the week leading up to the classes, anywhere I went, I was crocheting.  On the subway, in a waiting room, getting my hair done, even while walking…hooking, hooking, hooking!
The extra awesome thing about selling with Black Orchid is that the owner, Kerri, is willing to ship the items if they sell online, so they are also listed in my Etsy shop.


In addition to shawls for Black Orchid Designs, I have also been working on a couple of custom orders.
The first one was so much fun to make…mainly because it is made from alpaca and I LOVE working with alpaca fibre.  The black base is a worsted 80% alpaca/20% acrylic brushed fibre, twisted with a teal alpaca/silk lace weight yarn. The awesome part is that it weighs practically nothing!


The second custom order was a bit more challenging.  The customer wanted a skull scarf that was similar to the original red/burgundy/grey/black wool scarf that I made a few months back, see the picture below. (I also provide the free pattern here.)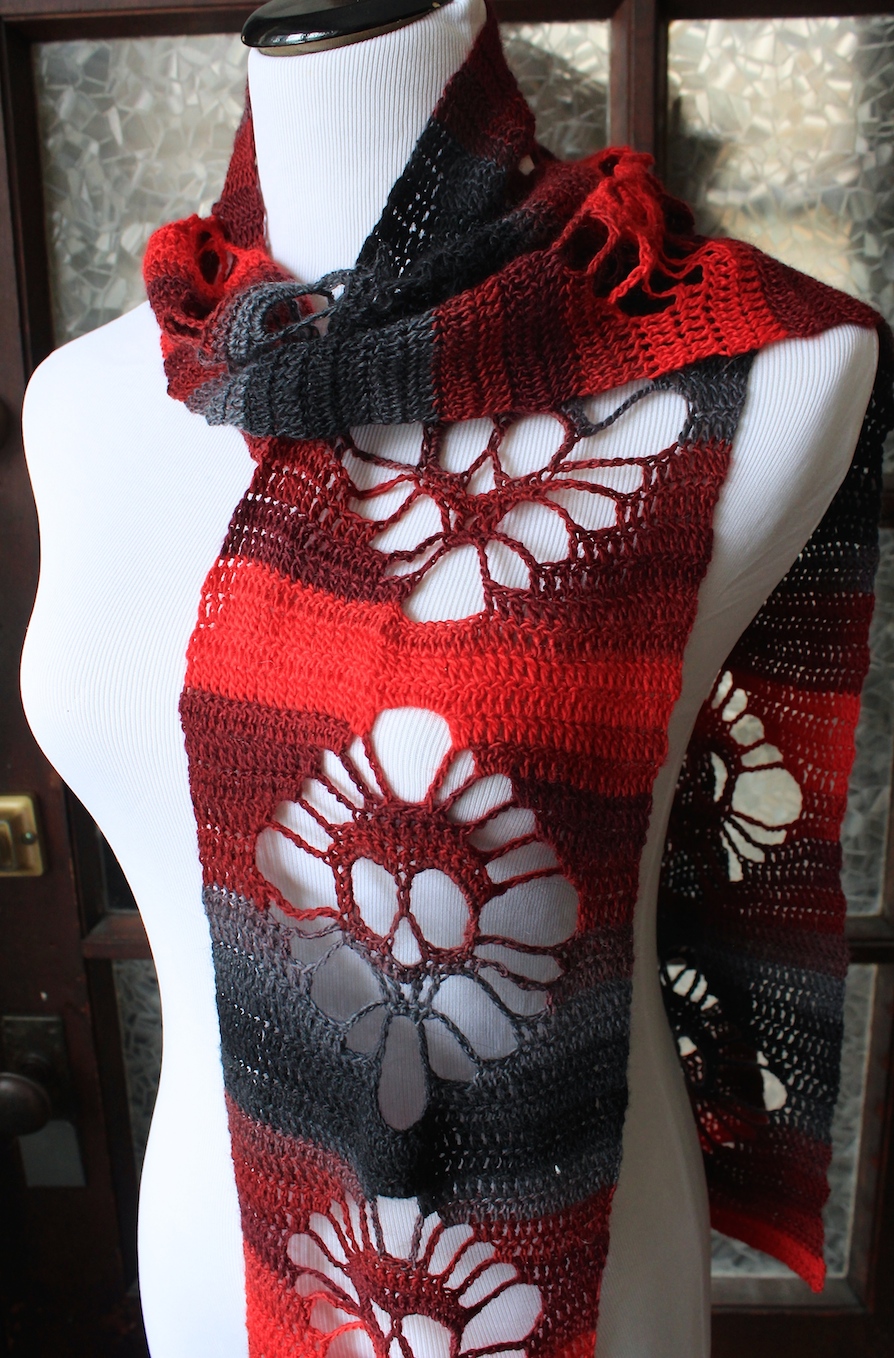 But… she wanted it in acrylic so I had to spend some time visiting yarn shops and trying to match the colours.
Eventually I found some balls of lace weight acrylic that seemed to do the job.  I had to use a smaller crochet hook than for the wool scarf above and it took me quite some time due to my schedule…but it is complete and on its way to Scotland!
And here is the completed acrylic version!  The colour changes are somewhat sharper as the wool yarn (above) is variegated and the acrylic scarf was made with four separate skeins, but I'm pretty happy with how it turned out!


So yes, incredibly busy these days…but still creating and playing with yarn!
In other news, I have been teaching myself brioche stitch…now THAT is an adventure in patience and soon to be its own blog post!
Ciao!